What is ACMA?
"Connecting Austin to Christ through Music and Fellowship"
ACMA is an organization designed to connect surrounding musicians in and around the Austin area by establishing a network of Individual Artists, Christian Bands, and Worship Leaders using their gifts and talents for the Lord, thus building fundamental musical relationships with those around them.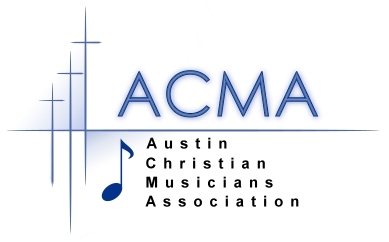 ACMA Introduction Meeting
It's time to end the year with the 1st meeting for ACMA.
Please be advised: There are plenty of seats open (and I want all of them full).

Who: Anyone who has a genuine concern for the Christian Music Scene in Austin (what, there's a christian music scene in Austin?)
When: November 29th (wednesday night) @ 7:30
Where: North Hills Community Church - http://www.nhcconline.org
What: The Introduction meeting for ACMA, planning for 2007
Why: B/c Austinites needs to have their FACES ROCKED OFF!!!


We are going to start out by going over the basics of ACMA membership opportunities and getting you guys familiar with each other. Also, we are going to address the "non-existant" support from the Austin community towards Christian Music. The whole point of ACMA is to network, gig swap, and support each other so that the Kingdom will be glorified through music.
ACMA Helping to Promote: IGNITION 2007
Austin, Texas: February 23rd - 25th, 2007
Pflugerville Community Church


Ignition: Indie Music Conference & Showcase is an opportunity for independent artists and musicians to showcase their talent in front of industry professionals and record label representatives. Our judges have been a part of selecting amazing winners from showcases over the last 2 years, many of which that have gone on to incredible things!

The event is a great time and much more than a competition, with judges from within the Christian music industry (Provident, Sony, Gotee, EMACK Music Publishing, and more...) offering feedback, insight, and education through workshops, coaching sessions, and Q&A sessions. We offer a FULL conference track during the weekend with opportunities to hear from great people that can help you move in the right direction.

The showcase portion does offer some amazing prizes to the top performers, including merchandise starter kits, photo shoots, web design, A&R sessions, 1,000 replicated CD's, and a Grand Prize: the top band/artist from each event will be asked to perform at an "invitation only" showcase in Nashville in front of top industry execs and A&R representatives the following spring! In the past, when we gave free entrance to the Gospel Music Associations, "Music in the Rockies", winners of our showcases routinely finished with top honors! Because of the continued success of these artists/bands, we decided to do more and invite them straight to Nashville. Just think what could happen if you become the next showcase winner...

Being an indie musician/artist/singer/songwriter is an amazing challenge and an incredible adventure. If you can gain the tools to help you take advantage of opportunities in today's world, you can find great new ways to advance your music to more listeners. So come join us in being a part of helping further the careers of many talented independent artists,... people just like you!
Latest ACMA News with Above Grounds

ACMA has recently joined up with Above Grounds and boy are we excited about it.
What is Above Grounds you ask?
Above Grounds exists to bring Christians together by connecting Austin churches, Christian bands, ministries, and organizations across Austin. In our plans is a Christian coffeehouse to promote fellowship and the strengthening of the body of Jesus Christ in Austin, Texas.
Brother Joel is coming right along side with our vision of having a HUGE Christian Musicians Network where Musicians, Churches and anyone who loves music can connect through their website www.abovegroundsaustin.com
Please pray for God's mighty hand in the process making and the fundrasing for this Coffee House.
If you would like more information on this, check them out under the links page!

Stay tuned for more updates...

Click Below to Contact ACMA
Kevin Gathright